Eclectic style: create a unique space
Every trip, every experience, every visit to rakes and antiquarians is giving us objects and memories that become part of our home creating a space with an eclectic style that makes our home unique and very personal.
For some time now we have been seeing how little by little the eclectic style is imposing itself on decoration. And that is to decorate our home with a single rigid and very defined style is outdated. Each trip, each experience, each inherited element, each moment of our life, each visit to rakes and antiquarians is giving us objects and memories that become part of our home creating a space with a unique and very personal style. But we run the risk of creating a chaotic and overloaded environment or it seems that we live in a museum so today we tell you what are the keys to the eclectic style, you may discover that it is perfect for you and you did not even know it!
But what is the eclectic style?
The eclectic style in decoration is characterized by the mixture of styles, epochs, patterns, textures and materials creating a unique atmosphere, full of strength and personality. The word eclecticism comes from the Greek "eklegein" whose meaning is to choose and was born as a philosophical term that refers to the conciliation of different ideas and visions of the world. In architecture it began to be used from 1860 with the mixture of different styles and epochs. The eclectic style is perfect for people who do not feel defined by a single style of decoration, but prefer to mix different pieces, to their liking and without rules.
It is a style that seeks the beauty of the environment by mixing and combining elements that can come from any time and place. This leads to creating unique and very personal and unrepeatable environments according to the personality, experiences, lifestyle … of each person. It was born with the reluctance of artists and architects to stick to a rigid style scheme and their desire to mix and experiment with them. And today is one of the trends with more strength in decoration because in a connected and multidisciplinary world the unique styles seem to have been somewhat obsolete. It is difficult to define it because it is based on the lack of definition and the unique mix, but we can specify some aspects that mark the eclectic style or that will help you when using it in your home.
Inspiration comes from any place or time
There are no limits when it comes to decorating and looking for inspiration, so we can use ideas seen in a trip, a movie, the inspiration of a book, a past time, …. to create a thematic line that will help us when decorating. It is one of the characteristics that makes this style unique, its lack of limits.
A considerable part of the charm lies in decorating with objects that originally were not conceived as decoration elements, but for more practical purposes and that will give a unique air to your home.
Let yourself be carried away by what you like and make you feel comfortable and at home and build from it. They can be your memories of exotic trips, they can be your most special books, can be some precious objects inherited or recovered at some auction … let your creativity flow and combine elements that at first glance do not seem to have anything in common. The result will surprise you!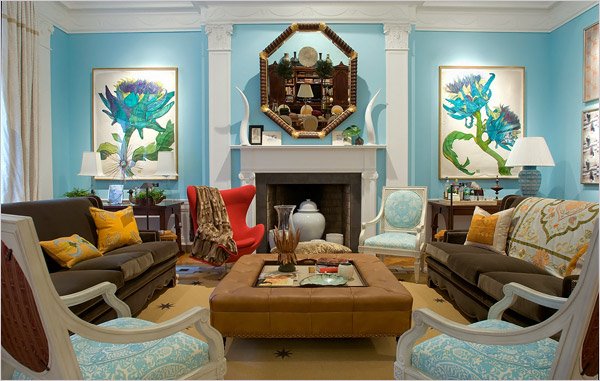 Nostalgia for the past
Not that any past era is better but if all past times can contribute something to our decoration. One of the characteristics of this eclectic style is to mix pieces from different periods without any complexes simply by focusing on the beauty of the pieces, what they transmit and contribute to us. But try not to be too heavy pieces or that the set is balanced. The inherited furniture is mixed with other more modern or design to create contrast.
It is an expression of the personality of its owner
Have fun decorating and above all be yourself, let your creativity guide you and create a unique space for you and your family in which you feel identified and at ease. There are no rules and therefore what should be what you and your preferences send. There is no good or bad but if you have to try to find the balance to avoid environments too baroque and heavy.
Let your tastes, your memories and what makes your special life look also in your home. Decorate with those objects that transmit you passion for living and make you feel at home, mixing and trying to get the atmosphere you are looking for. Forget about the right and wrong and bet for you and your personality, what matters is how you see it!
Color can be key
Being a style in which furniture, fabrics and objects take a lot of prominence, the best thing is that the wall of the decorations is more neutral to allow your decorative elements to shine in all their splendor. Although you can also risk with some strong color but better not to create too much mixture in your walls so that the objects get all the attention.
Although, who said fear? The textures should be mixed so that the wallpapers or the walls can also be a good idea. So that it does not turn out "too much" it looks for a certain harmony in the colors of fabrics, upholstery and furniture to create balance and that does not look like a messy jumble of objects.
Avoid the museum effect
It is your home so you should feel comfortable in it, so avoid the museum effect with too many objects as an exhibition. It is good to have memories of your travels and experiences and expose them in your home as you see fit, but if you pass you can create the opposite effect and become too cold and without personality.
Think carefully what pieces should be in view and look for comfortable furniture such as sofas and armchairs rather than spectacular pieces but in which it is difficult to live. The amount is also important, do not overload the space because besides looking smaller the effect will be claustrophobic and falling on the walls.
Although the eclectic style gives you a lot of freedom when it comes to decorating, you have to continue measuring very well the amount of objects and furniture that we place in each space,
Create contrast with textures and materials
The fabrics are another element that can help us in our eclectic decoration, from the classic oriental rugs brought from our trips to cushions, quilts and all kinds of elements that provide warmth and at the same time color and pattern. Do not be afraid to mix them because they will help you to give warmth and at the same time authenticity to your decoration of eclectic style.
Also the wallpaper can be a very good solution that provides texture to your walls. Do not be afraid of the mix, of course, either go crazy or you will get the opposite effect.
Balance is the key. Also the mixtures of different materials are key as well as elements of different cultures and origins that nevertheless when they are united create a harmonious whole, ¿complicated? It's a matter of trying to find the perfect combination.
The importance of order
For what we spoke before, order is paramount to avoid overloading the space and that there are too many elements at once in a space. Measure well the space you have and the elements that you want to expose in it so that they shine in all their splendor without overloading us.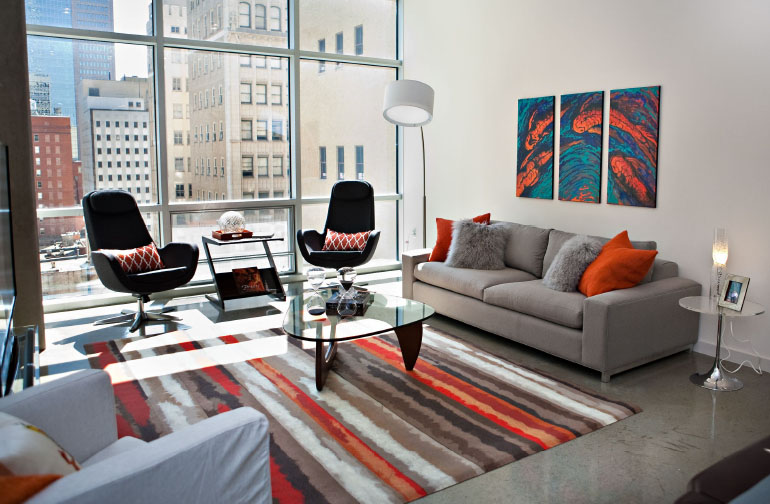 Sort and re-order items periodically and if you include new things, you have to undo or save others. We can not accumulate without control because we will end up creating a motley and stressful group around us and not a home. Each object must have its place.
So far our vision of the eclectic style, a style that every day gains more followers for its strength and personality. Because it does not put limits to our creativity when it comes to decorating a space until it becomes something unique that reflects our personality and more important experiences.
That is why it is a style that is sure to continue growing strongly in this world where every day we travel and know more cultures, countries and we want to incorporate these experiences into our daily way of life to enrich it and give it more content. You can see more images on my Instagram page . And you bet on the eclectic style in your home? Leave me your comments and ideas on this subject and I will be happy to answer any questions. Happy week.