In this article we will talk about Raw decoration that uses wooden elements in the most natural state possible together with current furniture. A commitment to the beauty of imperfection, which makes each element unique.
Today we are going to review a trend that is taking strength in decoration. Raw decoration is based on using
wooden elements in the most natural state possible with current furniture. The wood must be in its pure state,
or appear as natural and imperfect as possible.
But we are not talking about a rustic style decoration or country house, on the contrary. It is about using a modern decoration of pure and modern lines, together with raw or raw materials that stand out for their unique and timeless beauty. They create a spectacular contrast that makes these pieces the center of all eyes.
Where does  raw decoration come from?
The word itself means "gross" or "rough", something like raw material, untreated. We live in a world that tries to look for a more sustainable, healthy and authentic lifestyle. We return to look at nature to include it in our daily life. In fact the consumption of raw food or "raw food" is very topical. Just like home gardens, organic food, recycling … And this movement towards healthy, eco-friendly and natural also reaches the decoration.  Now we discover the taste for this type of furniture or decorative elements "raw" or in a natural state.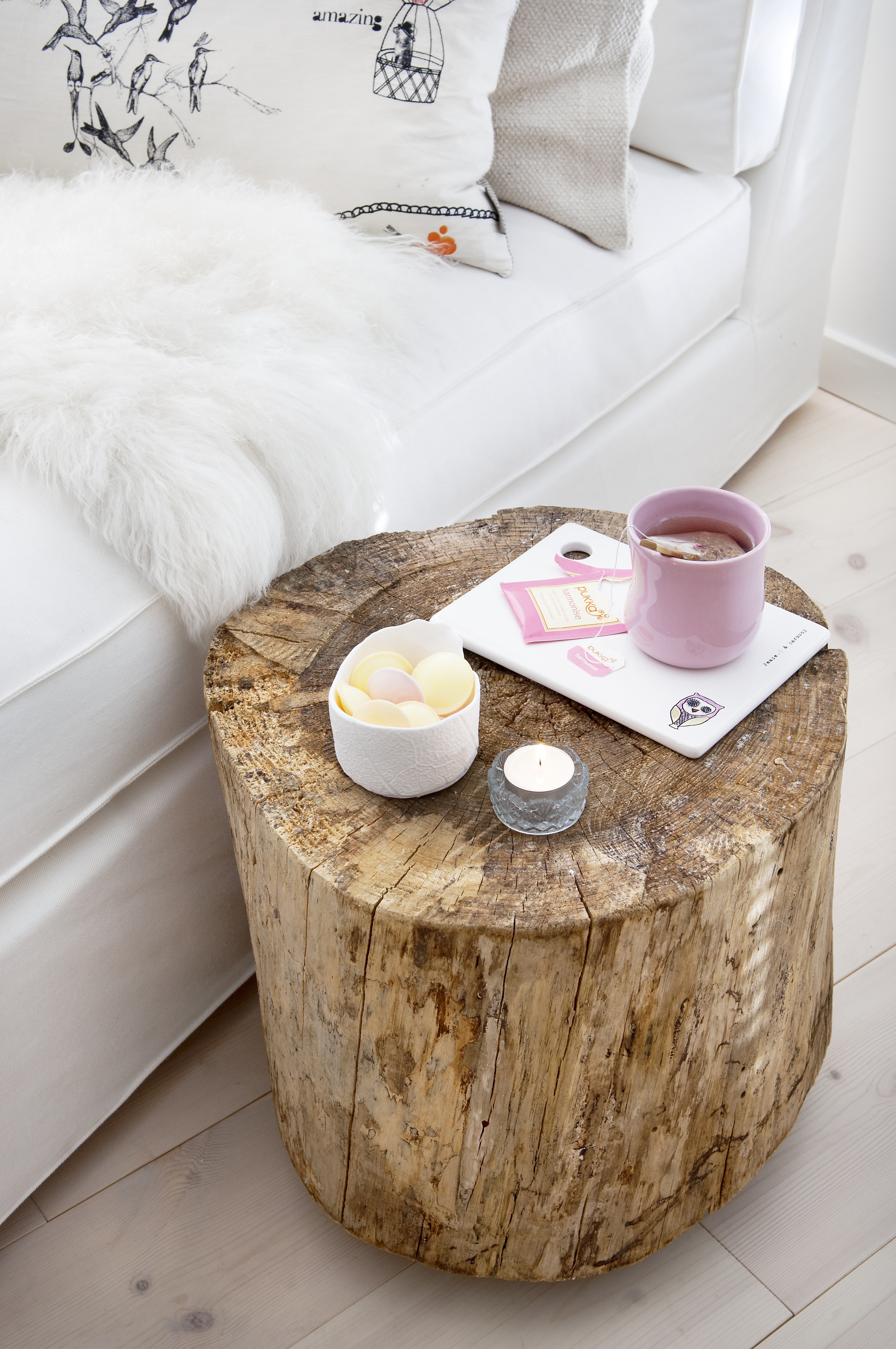 The beauty of imperfection is claimed, which makes each element unique. Pieces of wood almost untreated, or that seem it, fresh from a forest to decorate our home. And so make us feel closer to nature. In this way raw decoration looks for elements with natural shapes, not symmetrical, and full of cracks and imperfections. Surely you've seen it in the magazine and fairs but maybe you still have not put the name. Let's review some of its features.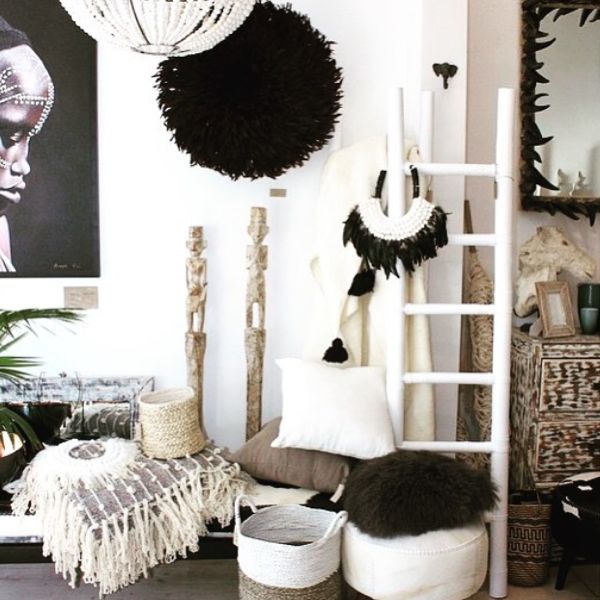 Pure wood
If an element stands out is the wood in its pure state, with cracks and porosity in sight. And it is that the wood is beautiful to the natural without additives or disguises. The wood should look like in nature or at least look like it. Which does not mean that we do not take care of it, with natural oils to maintain its beauty for a long time.
But we will choose wood in its natural color and with the most rustic and pure look possible. Rough texture and full of imperfections and unsuspected and surprising forms. The raw decoration moves us to nature!
Playing with textures
In raw decoration one of the keys is the mixture of different textures. This will make stand out and highlight those unique pieces. In this way we will combine raw pieces with other more modern ones, with straight and simple lines that in contrast make them shine with their own light. The wood will bring warmth to the environment in contrast to modern and symmetrical furniture. In the game of textures is one of the keys of this style. We must also play with textile textures. The most used pieces are tables, shelves, coffee tables, side tables,
wooden beams and stools.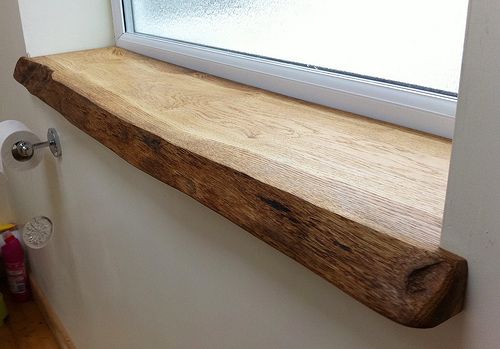 Find the balance
It is not about saturating an environment with raw pieces, quite the contrary. You must find a balance that makes them stand out. So we will choose two or three pieces of raw style for each room and we will mix them with modern style furniture. As they are very versatile pieces, when combining they can go well with many types of style: minimalist, Nordic, industrial, rustic … So we should not change our decoration completely if we do not integrate these central pieces in it. In this way we will achieve a warm, natural and very welcoming
environment.
Environments that transmit relax
We seek to create a calm and natural environment in which we can relax. This type of wooden natural  elements will help us achieve it. The materials in use depends on our personal mood. Timber Natural helps us feel more in tune with nature and more calm. We must also prioritize the use of natural colors both in the wood and in the rest of the environment. The browns, creams, whites and in general all the colors related to the earth and the forest. A return to nature that will bring us the calm at home Don't you love the idea?
Decorative beams
Another element that is very much in trend with Raw decoration is the decorative wooden beams. But now in its purest and most natural state, resembling trunks of trees that decorate our roofs. This shape we bring warmth to our roofs and we give them prominence. And is that the ceilings no longer seek to pass unnoticed if not also be protagonists. This is the perfect way to get it, especially if you have
of high ceilings at home.
Recycling
Another feature of the raw decoration is the taste for recycling and the reuse of wood. A) Yes We can recover pallets or pieces of wood to give our home a Raw style. For example, with a nice headboard made with pieces of a pallet. Or with a coffee table imperfect and full of personality that will make any space unique. Recycling is fashionable and is perfect for introducing raw decoration in our home Here are some ideas that may be useful to you. Let recycling enter your home!
How to incorporate the raw decoration in our house?
As we have already said, you do not need a radical change, just include some wooden elements in your state more natural as possible. A good idea is to take advantage of recycling as in this article about recycling doors wood. We can choose to include small furniture such as wooden boxes, stools or side tables. OR also old wooden stairs. All these little elements will bring warmth and naturalness. We can use these elements in any room of our home, as it goes perfectly in all they. If you have to change an important piece, such as a table or a dresser, look for it in wood, natural colors and that there are cracks, small marks … It will become a key piece in your decor.
So you want to start raw decoration?
Or maybe you have already signed up without knowing it. Because it is what happens in decoration. Sometimes we have been seeing
something or even we have introduced it at home when we discover that it is the latest trend. It is partly what happens with the Raw, we have been watching it for some time. Little by little the wood has been gaining space and, at the end, it has managed to consolidate itself as a trend. And I'm not going to complain, because I love it. It's been a long time since I keep an eye on those dining or kitchen tables full of cracks and crumbs that seem about to tell us about history. And the wood has so much to contribute to the home. Do not you think? And it is also proof that the recycling continues to gain strength.
Another good news If you want to see more authentic products that you can use for raw decoration, please visit our store.